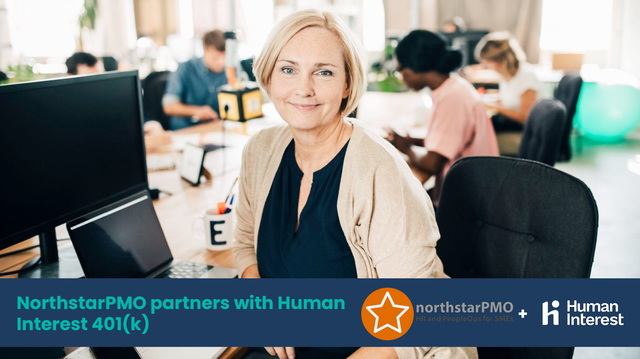 NorthstarPMO is delighted to announce that it has partnered with Human Interest, a 401(k) provider for small and medium sized businesses, to add an affordable retirement benefit service to its clients.
Human Interest eliminates the burden of managing a 401(k) plan with easy setup and administration, recordkeeping, and streamlined onboarding for employees. A top rated 401(k) provider on Google, Human Interests works with over 7,000+ businesses and has a 70% participation rate - which is twice the industry average.
Traditionally, 401k plans have come with two significant barriers to entry for smaller businesses - cost, and management effort. In our ongoing mission to make quality HR offerings available at an affordable price point, and to remove the administrative burden of running them, we have partnered with Human Interest to make 401k plans available to our clients with special terms and pricing.
Small business retirement plans are a hot topic right now - with over 40 states passing or introducing legislation to mandate that small businesses offer a qualified retirement plan to employees. But it is about much more than compliance - did you know that a retirement savings benefit is the most important element to a benefits package after medical insurance in the eyes of many employees? As a small business, you'll know that attracting and retaining the right talent is critical to your success - so why not consider offering a quality, easy-to-use 401k plan to help you stand out from the crowd?
You can read more about state mandates in our Small Business Retirement Plan Resource Center.
The benefits to you
Through our partnership with Human Interest, you'll receive:
Integration with over 300 payroll providers
Zero transaction fees and affordable, high-quality investment options
Transparent three-tier pricing structure, each with a different level of service
Clients who start a new 401(k) plan through this partnership can take advantage of special benefits, such as:
up to $15,000 in SECURE Act tax credit
Human Interest tech credits to significantly offset the cost of starting a new 401(k) plan
Clients who convert an existing 401(k) plan can benefit from:
a complimentary benchmark report to understand if your plan is still competitive
Up to $2,000 reimbursement for conversion fees from your previous provider
At Northstar, we are committed to bringing our clients the most suitable benefits bundles - and that's why we are excited to partner with Human Interest and support its mission to make affordable retirement plans accessible to people in all lines of work.
Interested in learning more? Book a discovery call with us today!